Fusion of the craftsman's spirit and machine's efficiency
Gun drilling machine, originally developed to drill the barrel hole of a gun just as the name indicates, is used at TEIN to drill a hole in the piston rod. A highly accurate and precise hole is essential to enabling fine adjustments of damping force.
Change after change was made to improve the manufacturing and processing machinery, adopting cutting-edge technology as well as unique and original ideas. TEIN has made numerous efforts to provide superior performance products at affordable prices, which retain the highest craftsmanship. TEIN has an unyielding commitment and uncompromising attitude when it comes to quality. TEIN's computerized production line is under uniform management. Completed shock absorbers meeting rigid requirements in every aspect, is truly the fruit of the TEIN philosophy.
High quality, strength, and efficiency
Even the slightest error can not be tolerated, from start to finish in producing high quality products. TEIN utilizes the most-advanced machinery, including custom-designed "both-end processing machine" to process materials efficiently and precisely. Spot welding machines enable instant yet secure welding, and welding robots have been developed and programmed in-house for optimum results. Consistent processing by machine combined with well trained operator inspection produces products high in both quality and intensity.
TEINfs ultimate powder coating method; '2-layer / 1-bake'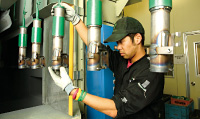 A powder coat paint is not only used for superior appearance but also for rust protection and high durability. First a base coat is sprayed on, then a green powder paint is applied as a top layer, and finally the product is baked in a furnace. Usually, one baking process is required per one layer of powder paint, thus 2-layers requires 2-baking processes. TEIN, however, succeeded in developing a patent-pending "2-layer/1-bake" method, in pursuit of high-efficiency.
Desire for professional craftsmanship and exceptional machinery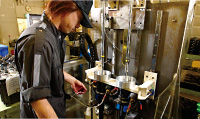 The piston valve, which is the heart of shock absorber and controls damping force, is assembled using a special machine designed exclusively by TEIN. The final assembly of mono-tube shock absorbers is performed by custom-designed and custom-made machinery, while final assembly of twin-tube shock absorbers is performed by highly-skilled TEIN staffs. Both are assembled carefully, undergo close inspection, and then are delivered to customers.
Made in Yokohama. TEIN quality, only made possible by in-house integrated manufacturing.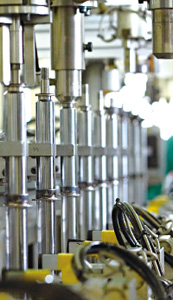 TEIN's policy is to provide high quality products upon customers demand. Based on this policy, TEIN is producing various high quality part numbers in small quantities. TEIN's production line is under uniform management, meaning that a single system enters the data into every machine. No factory workers can change machining data on the spot. If changes need to be made to parts, they are made on the system. This also means changes to those parts and related parts can be carried out at the touch of a button. We control most everything on our own, therefore we are able to take prompt action in case of problems, and this allows us to provide high-quality products consistently. We do rely on machinery in some part, but the final assembly in many ways depends on craftsmanship. That is the moment we give 'life' to each and every product.