3 Samurais, the final barrier for quality control
Evaluation of Test Rides
One of the most important factors for the functionality of street-use shock absorber is ride comfort. How people interpret ride comfort differs from one person to another, and there is not a single correct answer. At TEIN, ride comfort is considered to be a significant factor of product quality, and test rides are performed repeatedly to ensure optimum quality. Every TEIN product is evaluated by 3 TEIN staffs that have passed very stringent internal qualifying exams. One person from each area of R & D, product planning and quality control must perform test drive evaluations. If one staff rejects any one point of a product, that product will never hit the store shelves. This prototype product is then sent back to the start, modified, and the entire process starts all over again. Under thorough quality control, TEIN delivers a complete 'product' not just a single 'part', providing something extra to a customers' driving experience.
Maintainance of testing equipment.
"Is that 10.0mm you just measured really 10.0mm?" How do you answer to a such question? TEIN uses all different kinds of measurement instruments during the production process including but not limited to precision calipers, micrometer caliper, load testers, damping force testers, etc. If such devices are inaccurate, it's impossible to maintain the quality of the products. To accurately test the products, all measuring equipment must be precise. At TEIN, every single measurement device is registered, maintained, and regularly calibrated. Calibrations are made using government-designated standard devices. 10.0mm measured by such standard device is really the exact 10.0mm. A measuring device is not accurate unless it can exactly match the standard one. TEIN's level of caution means that even brand new equipment must be properly tested before it can be registered and used.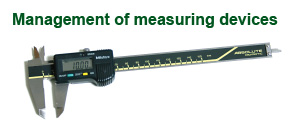 No running away. No hiding. A pledge made, as cutting own products into pieces.
It is extremely rare that TEIN has released products that are defective and should have never been released. This products are immediately recalled as they were found to be defective. Such recalled products will never be repaired nor reused but instead are cut and then disposed of. Customer safety, security, and confidence are among our highest priorities, and it is our mission to prevent such inferior products from falling into customers' hands. TEIN is continually improving quality control with ever increasing standards, keeping a solemn vow never to repeat such mistakes.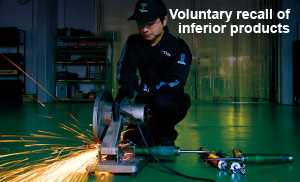 Do what we have to do, as we have to do it. TEIN knows how difficult it is.
TEIN has set forth strict quality control, and as a result, all branches were awarded with ISO9001 certification. TEIN is one of only a small number of after-market auto products manufacturers with this distinction. ISO9001 is difficult to obtain but does not require anything extraordinary. We know how difficult it is to do what we have to do, in just the way we have to do it. Everything is done with the customers' safety in mind, to give them a peace of mind. TEIN has set forth activities to ensure quality; not just a system to prevent producing defective products but also a system to take prompt action if product defect occurs. But, it all comes down to 'people'. Even if we build an excellent system, it does not mean anything if the people who use the system do not follow the rules. We thoroughly train employees because we know how important it is to develop human resources in order to maintain product quality. TEIN never compromises on quality.