The Story of New EDFC
Episode 7 【 Media Test Drive Event 】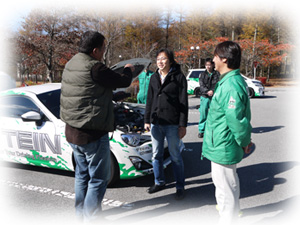 6:00AM, at the dawn, on Wednesday, November 14th, 2012.
Sugiyama, Mihara and Nakano were at Lake Yamanaka in the freezing temperatures.
"Well, this is it," said Sugiyama.
It wasn't the cold weather that made his face expression so hard.
The day has come.
The rollout event for a brand-new product "EDFC ACTIVE" was being held for the next two days, inviting media personnel.
This is the product that these three have been struggling to develop.
In preparation for this media event, they have been making test runs repeatedly and taking every possible measure to hammer out the final details.
They were so confident.
But at the same time, they were a little worried, because this product was something unprecedented and they did not know how the media would react.
"Nakano, look at your face!"
"Be confident, will you? This EDFC ACTIVE you have created is a sure hit!"
"The media will definitely see that!"
Mihara said to Nakano and patted him on the back, trying to wipe out his worries.
"There they come!"
"So, this really is it!"
The three rushed to the venue.
Before they knew, the presentation room was filled with the media personnel.
Trying to get details on the new never-seen-before product, all the media had curious looks on their faces.
The presentation started right on time.
Sugiyama and Nakano put their mind and heart into making presentation to the media, based on the materials that three had prepared working around the clock.
The media listened intently, continually taking notes.
Now, they moved on to test drive cars with EDFC ACTIVE installed.
Demo cars available were 86, BRZ, Swift Sports, Prius, Vellfire and Wagon R, chosen from all sorts of categories from sports cars, minivans, sedans to K-cars, so that the media can experience how effective EDFC ACTIVE is on different types of vehicles.
The media dispersed to each car and took off.
"What are they going to say when they come back?"
"One of test-drivers is a Super GT driver, I believe..."
Sugiyama said nervously and uneasily.
After a while, all the demo cars came back one after another.
TEIN staffs split up to hear what the media has to say.
Their response...
"This is so fun!"
These were the first words came out of one of the drivers upon getting out of the car.
Sugiyama, Mihara and Nakano could hear that from distance.
"Yeeeees!"
They could not help but shout and pump their fists into the air!
The driver continued.
"Adjustment based on G & speed, that I can really feel well!"
"Damping force gets stiffer when braking, just as configured, so the car stays stable all the time!"
Another driver added.
"It does not change damping force suddenly, but it controls more naturally to generate the best damping force for the car's conditions."
"This sure is fun on streets, but I want to try on circuits!"
The media's reaction was...
"For the first time in years, I came across the auto-parts that I actually found it fun to use!"
"This is something I want to spend my money on!"
Sugiyama, Mihara & Nakano felt a sense of relief, listening to all these positive comments.
"Oh, great! We were right on the track, after all!"
Nakano let loose with a sigh.
"I told you so! I said this is going to be a hit for sure!"
Mihara boasted.
"Well, the very first step is over now!"
"But this is not the end yet. Auto Salon is coming up soon!"
As Sugiyama said, the three's eyes were already focusing on the next step, filled with confidence.