The Story of New EDFC
Episode 8 【 Tokyo Auto Salon 2013 】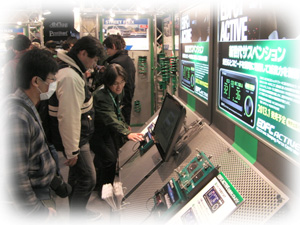 After the media release event, Sugiyama, Mihara & Nakano even became much busier.
The famous annual event, Tokyo Auto Salon at Makuhari Messe, was coming up soon after the turn of the year.
This is always the busiest time of the year, but this year probably was busier than ever, having to prepare EDFC ACTIVE for its debut to the public and to make it reach as many people as possible.
"We are going to introduce EDFC ACTIVE at Auto Salon..."
"It's impossible to show everyone how fun EDFC ACTIVE is, without having them ride the car..."
Sugiyama was talking to himself, looking off into space.
"Many of my customers are coming..."
"How can I appeal to them, focusing on wireless feature...?"
With a grim look on his face, Mihara muttered, folding his arms over his chest.
"We can not pick up GPS signal inside Makuhari Messe halls..."
"Is there any way we can demonstrate G+speed integrated adjustment...?"
Murmured Nakano, staring at GPS antenna.
"Mmmm..."
The three were agonizing over the ideas for Auto Salon exhibits, drawing up drafts on the whiteboard, erasing and drawing again, repeatedly.
"You know, they have to actually see and play with it!"
"We need to prepare lots of floor samples!"
"Samples are not enough to show all the features. Without GPS signals, we can't even demonstrate speed-sensitive control."
"We don't have much time, but why don't we make a promotional video?"
"How about live demonstration show by us, TEIN staffs, maybe every hour?"
"We've got to give simple and clear explanations on all these added features!"
They put their heads together to draw up the exhibit plans, one after another.
"The clock is ticking. Can we do all these in only 6 weeks?" said Sugiyama uneasily.
"Should be fine. You know how we all react to challenges! The harder the challenge is, the more we get excited!" Mihara said with a laugh.
Now the time has come...
Ding-Dong-Ding... Good morning, exhibitors. Tokyo Auto Salon 2013 is now open.
Let's all bring the awesome 3-day show.
As soon as the opening announcement is heard through out Makuhari Messe, TEIN booth was flooded with massive crowds.
Soon after that, Sugiyama, Mihara & Nakano became busy answering inquiry after inquiry from the visitors about EDFC ACTIVE.
"Wao! This is great! I didn't know the suspension already came this far!"
"Sounds like the old F1 active suspensions."
"I really wanted this ever since I saw this in a magazine!"
"Seems really fun. Way to go, TEIN."
TEIN booth was filled with customers speaking with expectant and admiring voices.
All the opinions and impressions of the customers, which all the TEIN staffs including Sugiyama, Mihara and Nakano directly listened to at the show, were far beyond their expectations.
TEIN stands for "TE"chnical "IN"novation.
Since the time when TEIN was established, it has been our principle to provide the best products ever, supported by the state-of-the-art technology.
This fact-inspired story was about three employees, who inherited such passion, creating and launching the new generation of suspension products.
This is just the beginning of their further challenges.