The Story of New EDFC
Episode 6 【 On the Verge of Completion 】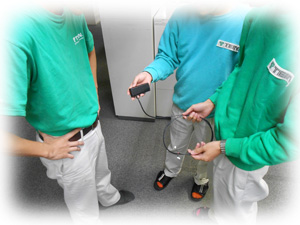 "Sugiyama! Here it is!"
Nakano yelled as he brought the controller mock-up to Sugiyama.
It was far smaller than Sugiyama has expected.
"You fit everything inside? This?"
"Control panel? Controller? And even G-sensor?"
Sugiyama was still doubtful, even having the actual model in his hands.
"Well, I had enough of that fancy expensive BBQ."
"I sure did push myself to the max."
"You also wanted a simple operation with easy-to-read big display, right?"
"That sure was tough, with more display items to add."
As Nakano told, he showed such a pleased and confident smirk on his face.
"Awesome! I love it!"
"Mihara will be satisfied too!"
Sugiyama seemed bit antsy waiting for Mihara to come back.
Just then Mihara returned.
"Look! Mihara! This is it! You've got to love it!"
Sugiyama boasted about the mock-up as if he had made it.
"Wao! Super! Cool!"
"It's going to be a hit! Way to go, Nakano!"
Mihara knew who should get all the credit.
"Well, how about the cost then?"
Sugiyama asked Nakano gingerly and Mihara peered steadily into Nakano's face.
"Actually, we barely made it!" replied Nakano with his thumbs up.
"Yeeeees!" the two screamed together in delight.
"I was absolutely right about making harsh comments on Sugiyama's cardboard crafts back then," said Mihara.
"Well, I am so glad I bought that superb pricey BBQ meal for Nakano!" laughed Sugiyama.
"Oh well, it's the strong feelings you two have for the customers that is making it possible to create something better," said Nakano.
"OK, we are only one step away from the completion and there are less than two weeks to go before the scheduled media release."
"We are now in the very final phase."
"We want every user to be happy with the new product, right!? Let's give it all we've got!"
Sugiyama gave a last-moment pep talk.