The Story of New EDFC
Episode 3 【 Upgrading Damper 】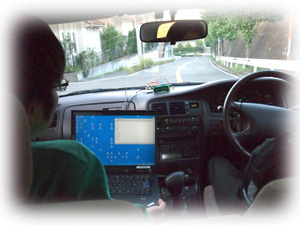 "Can't you just try the prototype, please!?"
R&D staff Nakano sounded somewhat desperately at the other end of the in-house phone.
What he wanted Sugiyama to try was the very first prototype of new EDFC with G-actuated & speed-sensitive damping force adjustment.
Sugiyama rushed to R&D building and found the test car ready to go.
"What's the matter? Isn't the prototype working well?
"Would you just try first?"
Sugiyama started the car as Nakano requested hastily.
It was not long before Sugiyama noticed the EDFC motors moving, responding to the changes in speed & G.
At the same time, he understood why Nakano did not sound so well.
"This is NO good," muttered Sugiyama.
Nakano was probably feeling the same way.
He could hear the motors moving, as speed and G changed, but could not actually feel the change in damping force.
He also felt the motors were a bit slow to respond.
This prototype was nothing like what he had imagined.
When they came back, cutting the test ride short, Nakano seemed to be resolutely prepared for something.
"We have to improve dampers too."
It was obvious that they needed to widen damping force variation range, to make it possible for drivers to really experience the changes in damping force.
Nakano made a direct appeal to the R&D manager in charge of damper design.
"To get the most out of new EDFC, we have to redesign dampers as well."
"Give me a break! You're joking, right?"
"I am so damn serious. Otherwise, it would not be fun."
Nakano surely understood the way Sugiyama felt about EDFC needing to be fun.
"Look, for dampers, it's not a matter of being fun or not being fun."
"We need to make them generate required damping force for intended usage. You know that's the most important part."
"Yes, I understand that. But, it still has to be fun."
"OK, then. How can we make it fun? Tell me."
"We need damping force generated beyond the necessary range. We have to make the adjustable range 1.5 times wider than now. No, make that 2 times wider!"
The manager stared at Nakano's face for a moment then grabbed the in-house phone.
"You're working on Street Advance now, right? Can you double the damping force range?"
Nakano could here the rather screaming voice from the other end of the line.
"We need that to make new EDFC more exciting. Double it, now," calmly said the manager.
The staff on the other end was still screaming but the manager hung up the phone quietly.
"Happy now? We are going this far. Now, you really need to make something great."
Nakano, feeling timid and grateful, thanked the manager and bowed until his forehead almost touched his knees.
"Thank you, sir!!!"