The Story of New EDFC
Episode 1 【 Customer Comments 】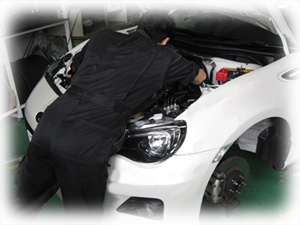 One afternoon of a rather ordinary day, sales rep Mihara was visiting one of the valued TEIN dealers.
His purpose this time was to meet the store manager to promote the new products.
The manager happened to be installing TEIN damper kit and EDFC on their customer's car at the garage.
Mihara, without getting in the way, watched the manager work on the car.
"You know, EDFC is very convenient once installed, but all the wiring is the pain in the neck."
"We can lower the labor charge if no wiring is required," muttered the manager, as he put his head in the engine bay struggling with the wiring.
"I'm sorry," said Mihara.
It seemed that he thought of something and he decided to rush back to the office,
even without fully explaining the new products.
As he arrived the office, he immediately turned to his colleague Sugiyama at product planning dept.
"Hey, think we can control EDFC motors wirelessly?"
"Well, what brought that on? You just came back."
"I mean, have you ever felt installing the motor cables was too much of a bother?"
"Yes, I have, actually."
"See? If we can get rid of all the cables, installation would be much easier."
"Not only we can save our dealers the trouble, but end-users can also benefit from the reduced labor fee."
"I see. That's interesting."
"I'll make a proposal at the next project meeting."
Mihara's idea was just what Sugiyama needed, as Sugiyama's boss had just ordered him to start planning the next generation of EDFC. "EDFC with wireless motors. This is it!"
There was not much time left until the next meeting.
Sugiyama quickly drew up a project proposal.