A) Reinforced Rubber Upper Mount


Reinforced rubber upper mounts are exclusively designed for each vehicle model to maintain ride comfort and quietness. With the upper mounts included in all kits it allows you to easily install the shock absorber simply by removing the original shock absorber and exchanging it with the TEIN shock absorber. (If rear spring and shock absorber are separate by design, rear upper mounts are not included.)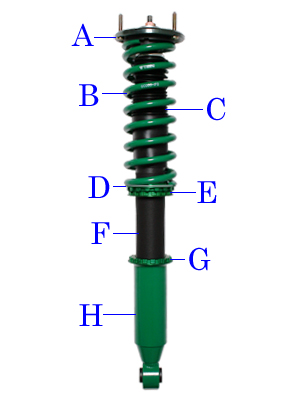 B) Spring


Newly designed springs are used to further improve traction and ride comfort.
C) Twin-Tube Structure


Twin-Tube Structure is adopted to offer more endurance and greater amount of stroke. Optimal damping force settings have been made to offer stable and pleasant ride comfort to meet various road conditions from city driving to highways.
D) Easy Adjustments with Thrust Washer


The BASIC FLEX DAMPER has adopted the new aluminum spring seats and along with it, the current stainless steel thrust washer has also been replaced with a stronger resin type thrust washer. This further improves anti-corrosion properties and makes ride height adjustments smoother.
E) Spring seat


The existing rubber lower spring seat is now replaced with the newly designed aluminum spring seat. This reduces the ride height adjust wrench from locking making ride height adjustments smoother.
F) Rust Prevention on Threads


The BASIC FLEX DAMPER uses a specially formulated Fluorine coating on the shell case to provide even stronger prevention against rust from existing methods.
G) Full-Length Ride Height Adjustment Feature


The BASIC FLEX DAMPER uses adjustable lower brackets for its full-length ride height adjustment feature. This allows ride height to be adjusted without changing the actual stroke, reducing any changes to ride comfort to a minimum. (Rear not full-length adjustable on some models)
H) 2-Coat/1-Bake Powder Coat


The BASIC FLEX DAMPER has an Electroless nickel coating applied to the inner side of the threaded part of the lower bracket followed by a blast treatment on the outer surface. The base is then applied with the first coat, an anti-corrosion coat, which is then followed by the TEIN green powder coat before being baked in a furnace. This new process increases protection against surface chipping and heightens anti-corrosion properties. (Patent pending)